About ONSTAGE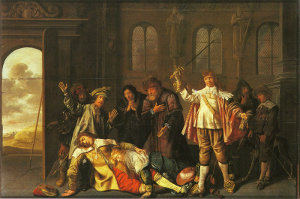 Scene from Bredero's 'Lucelle' by Jan Miense Molenaer (1636), oil on panel, Muiderslot.
This is your address for questions about the repertoire, performances, popularity and revenues of the cultural program in Amsterdam's public theatre during the period 1637 - 1772. All data provided in this system links to archival source materials in contemporary administration.
The Shows page gives you access by date to chronological lists of the theater program, and the plays staged per day. At the Plays page you have access to the repertoire by title, and for each play you will find its performances and revenues throughout time. At the Persons page you can access the data for playwrights, actors and actresses, and translators involved in the rich national and international variety of the Amsterdam Theater productions.
Go see your favorite play!